Conférence de Alex Housen (VUB) : "Complexity in Second Language Research - A Difficult(y) Matter?"
Publié le 14 avril 2016
–
Mis à jour le 4 novembre 2016
le 24 mai 2016

10h
UFR des Langues, salle LA103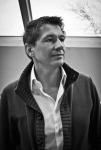 Alex Housen is currently Professor of English Linguistics and Applied Linguistics in the department of Language and Literature of the Vrije Universiteit Brussel.
His research interests include second language acquisition, (second) language teaching, bilingualism and bilingual education, and English linguistics (esp. morpho-syntax). His publications have appeared in various edited books and journals (e.g. Applied Linguistics, Studies in Second Language Acquisition, International Review of Applied Linguistics, Bilingual Research Journal). He is co-editor of Opportunities and Challenges of Bilingualism (with JM Dewaele and Li Wei; Mouton de Gruyter 2002), Bilingualism: Beyond Basic Principles (with Li Wei & JM Dewaele; Multilingual Matters 2002), (with M. Pierrard) Investigations in Instructed Second Language Acquisition (with M. Pierrard; Mouton de Gruyter 2005), the 2009 Special Issue of Applied Linguistics on Complexity, Accuracy and Fluency in SLA Research (with F. Kuiken) and of Dimensions of L2 Performance and Proficiency - Investigating Complexity, Accuracy and Fluency in SLA (with F. Kuiken & I. Vedder; John Benjamins 2012). He has also worked as a consultant on bilingual education for the Soros Foundation, the United Nations Development Programme and various ministerial agencies.
Plus d'informations
ici
Affiche de la conférence
ici